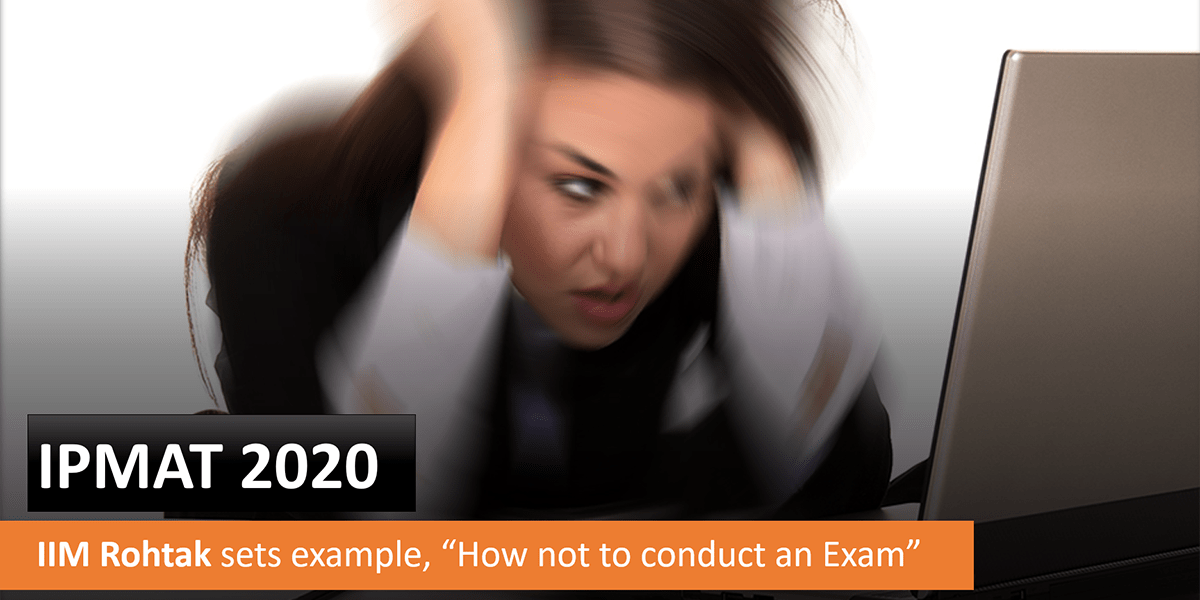 July 23, 2020

Ajay Zener

3
IIM Rohtak conducted the examination for Integrated Program in Management (IPM 2020) on 20th July 2020. The way this exam was conducted yesterday is a sad reflection of IIM Rohtak's incompetency as an institute to even manage a small test which is attended by less than 15000 students across the country.
To begin with, IIM Rohtak decides to conduct a National Level Examination using a google form, questioning its ability not only to understand technology but also to foresee the disastrous outcomes. There will be no doubt about the incompetency of the team involved in taking this exam live when you read the questions posed to the students, some of which are 1) Find the square root of 22222 2) Find the cube root of 55555.
Also, IPM this year was a timed examination 45 minutes long, but there wasn't any timer. The students had to keep their own time. By the end of the exam, some of the students could not submit their papers as they overshoot the time limit, while others submitted the paper way too earlier as they were not sure of how much time was left. To make matters worse, the google drive crashed, the exam loaded late, there were mistakes in questions and the WAT section which followed did not load properly.
---
Below is a real account of a student who attempted the paper
At the start of my examination, I got this message that "Google Drive is unavailable due to heavy traffic". After 3-4 attempts, I called the help desk,  but no one replied. I was very nervous and after refreshing the screen several times, finally, the portal loaded eight minutes later. After filling the mandatory details, the site crashed again due to heavy traffic.
A few more minutes elapsed and I successfully started my examination after a delay of 10-11 minutes.  There were 2-3 questions wrong in the quantitative aptitude section, one related to races and another on averages. I lost about 3-4 minutes on these questions. As there was no timer, it was proving to be very difficult to keep time, I was scared that I may overshoot the time limit and submitted my paper two minutes earlier. The same story was repeated in WAT. It took me 2-3 attempts to open the WAT section. I nearly lost 16-18 minutes in the main paper but was still able to attempt about 30 questions. Had this exam been conducted properly, I could have attempted at least 45 questions in the paper.
After the examination, I was very disappointed and tried to reach out to IIM Rohtak on email, but till now they have not replied to me. Some of my friends were not even able to submit their papers. I also heard from my friends that within 10 minutes of the start of the examination, the whole question paper was available on social media.
I request IIM Rohtak to look into this matter and conduct the examination like other institutions DUJAT and IIM Indore with proper facilities and proctor. I dropped a year to prepare for this examination and I am heartbroken that I was not given a fair chance by the institution. I feel cheated that even after having paid ₹ 3000/- to write this entrance examination, the exam was not conducted properly and all those who sat and cheated in the examination will find a place in the merit list.
IPMAT Aspirant
Sourabh Kumar
---
Many such instances are being discussed on Social Media, where parents and students have complained that the open-book, un-proctored exam conducted on google form is just a farce and an excuse to justify the ₹ 3000/- it charged the students as application fees.
IIM Rohtak's conducting of the IPM Examination will go down as a shameful episode in the selection processes of higher education institutions. Such lack of sensitivity towards students and a "taken for granted" attitude only puts a question mark on IIM Rohtak's ability to impart management education.
Our team has sent out a mail to IIM Rohtak's media division requesting them to address the concerns of the students. The reply to which is awaited.
---
Read more about IPMAT Examination
---