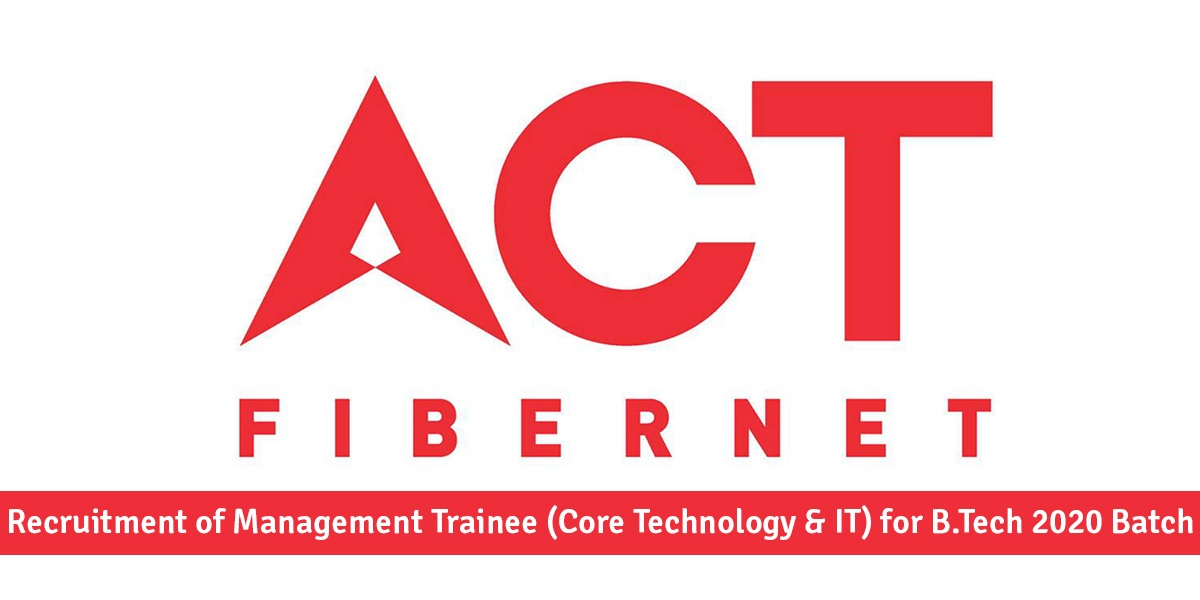 July 26, 2020

Ajay Zener

0
This recruitment is only for students passing out of 2020 batches of B.Tech / B.E / Integrated Programs.
---
About ACT Fibernet India
Atria Convergence Technologies Limited (ACT Fibernet) is the third-largest Internet Service Provider (ISP) in the wired broadband category India with branches spread across Rajasthan, Gujarat, Delhi, Karnataka, Andhra Pradesh, Telangana, and Tamil Nadu. With a corporate office in Bangalore, ACT Fibernet reaches out to more than 2.5 million subscribers with its fiber to home services, "ACT Fibernet" and "ACT Digital", the digital television network. ACT Fibernet is also India's largest non-telecommunication Internet Service Provider.
Reliable and trusted for home and workplace internet experience, ACT Fibernet services more than 19 cities with the fastest and most consistent internet connection, providing its customers with an unparalleled internet experience through the latest fiber broadband technology. ACT Fibernet was the first to launch 1 Gbps speeds to any city in India in the year 2017 and today has more than 15,000 enterprise customers across Bangalore, Chennai and Hyderabad.
ACT Fibernet was awarded among the top 38 Gallup Global Workplace award 2020 and is certified as a great workplace by Great Place to Work®.
India's leading broadband solution provider is hiring for its technology leadership program from top institutes in India. Do you have the talent and want to make an impact? If you are determined to become an ACTian, come work with us.
Technology Leadership Development Program
The ACT Technology Leadership Development Program is a specially designed program to give good business and functional learning with a focus on the latest technologies. The program will be mentored by key business leaders and would be spread across a duration of one year where the candidate will be able to undertake functional projects guided by the mentors. During the period of this one-year, the candidates will be reviewed periodically by a project guide assigned to the candidate.
Position: Management Trainee
Salary: About 15 LPA, the company visits premier institutes and is among the top 20% paymasters.
Eligibility: BE/BTech / Dual(Integrated) of 2020 batch with minimum 70% marks (7.0 CGPA aggregate)
There are currently hiring for two roles:
Core Technology role: Trainee in core technology will get to work on Computer Networking, Wired Fiber Network, Ethernet, TCP/IP, Routing and Switching, Software Scripting, WiFi, and Automation.  ECE, Telecommunications, Electrical, CSE, Instrumentation branches can apply.
Software role – Trainee in the software role will work in the area of Business Analytics, IT Infrastructure,  Data Centers, Information Security, Information Security,  IT administration,  Design, Development, and Maintenance of Application.  All other branches can apply.
Link to know more and apply: https://bit.ly/2CSR8t1