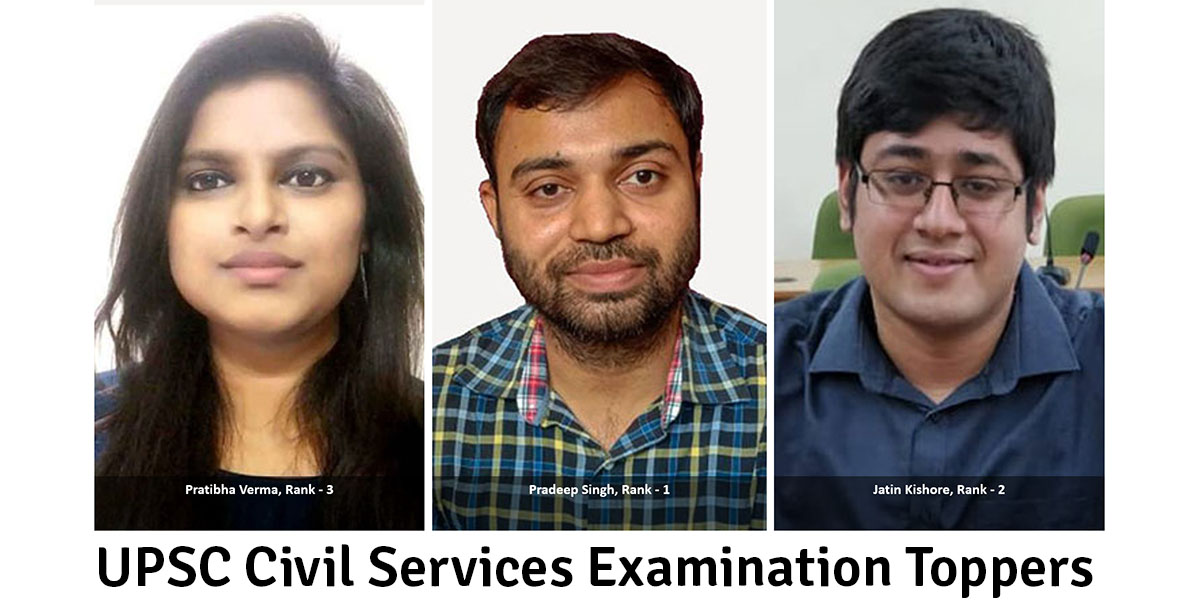 August 5, 2020

Ajay Zener

0
UPSC Civil Services Results Declared on 4th Aug 2020
The Union Public Service Commission on 4th August 2020 declared the results of the Civil Services Examination 2019. A total of 829 candidates cleared the examination to join the Indian Foreign Service, Indian Administrative Service, Indian Police Service, and other cadres of the civil services after three rounds of assessments. The number of candidates selected this year is 70 more than last year. Last year the number stood at 759.
Prime Minister, Narendra Modi reached out to all the candidates and congratulated them on their success. This year out of the total candidates selected 304 were from the general category, whereas 78 candidates were selected in the EWS quota. The number of OBC, SC, and ST category students was 251, 129, and 67 respectively. In the top-25 ranks, there were 12 women and 13 men.
As per the notification released by the UPSC, there were a total of 927 vacancies that need to be filled, out of which 180 vacancies were for IAS, 24 for IFS, and 150 for IPS. Pradeep Singh from Haryana who was undergoing training as an Indian Revenue Service Officer topped the examination this year. Pradeep Singh is the son of a farmer. Jatin Kishore who secured the second rank is from Delhi whereas Prathibha Verma from Uttar Pradesh secured the third rank.  Pratibha Verma is a daughter of teachers, her father is a retired teacher and mother is still undergoing service as a primary school teacher and is a resident of Sultanpur in UP. Prathibha Verma also was undergoing training as a Revenue Service Officer.
The top-25 in the UPSC Civil Services 2019 is as follows
Rank
Name
State
Subject Chosen
Profession
Graduation
1
Pradeep Singh
Haryana
Public Administration
Indian Revenue Service Officer
Engineer (CSE), Murthal University
2
Jatin Kishore
Delhi
Economics
Indian Economic Service Officer
BA Economics
MA Economics (DSE)
3
Pratibha Verma
UP
Physics
Indian Revenue Service Officer
Engineer (CSE, IIT-D)
4
Himanshu Jain
Delhi
Economics
BA Economics
5
Jeydev C S
Karnataka
Law
NLSUI Bangalore
6
Vishakha Yadav
Delhi
Humanities
Engineer (DCE)
7
Ganesh Kumar Baskaran
Tamil Nadu
Mathematics
IIM Ahmedabad
8
Abhishek Saraf
MP
Engineering
Indian Revenue Service Officer
Engineer (Civil, IIT-K)
9
Ravi Jain
Jharkhand
Sales Tax Officer
Engineer (NSIT, Delhi)
10
Sanjita Mohapatra
Orissa
Sociology
Rourkela Steel
Plant
Engineer (NIT, Rourkela)
11
Nupur Goel
12
Ajay Jain
13
Raunak Agarwal
14
Anmol Jain
15
Bhosle Neha Prakash
16
Gunjan Singh
17
Swati Sharma
18
Lavish Ordia
19
Shrestha Anupam
20
Neha Banerjee
21
Pratyush Pandey
22
Patki Mandar Jayantrao
23
Nidhi Bansal
24
Abhishek Jain
25
Shubham Aggrawal
---
Civil Services 2019 Topper | Rank 1
This year Pradeep Sing from Haryana, who is the son of a farmer from Murthal topped the examination. Pradeep was undergoing training in Indian Revenue Services for the last one year and is a Computer Science graduate from Murthal University. This was the fourth attempt for Pradeep, last year he had a rank of 260 and was selected for IRS. He had taken Public Administration as his optional.
Civil Services 2019 Topper | Rank 2
The second rank in UPSC Civil Services Examination is for Jatin Kishore of Delhi. Jatin is a BA Economics Graduate from St.Stephen's Delhi University, he later on did his MA in Economics from Delhi School of Economics. and was working with Indian Economic Services. His optional subject was Economics. This was his second attempt.
Civil Services 2019 Topper | Rank 3 & Topper Among Women
Pratibha Verma is the third rank this year, Prathibha is an alumnus of an IIT Delhi and was undergoing training as an Indian Revenue Services Officer. A native of Sultanpur in Uttar Pradesh, she is a daughter of teachers, her father a retired English teacher with Government Intermediate College whereas her mother is a serving primary teacher at a Government School in Sultanpur. This was the second attempt for Pratibha who had taken Physics as her optional subject.
---